All are welcome!
NW Dance Project holds exceptional classes for adults in a variety of styles including ballet, hip hop, contemporary, and fitness classes. Classes are taught by a variety of instructors and coaches with years of professional experience in their dance disciplines.

CLASS SCHEDULE
We are thrilled that you can join us for drop-in dance classes in the studio!
SAVE ON CLASSES WHEN YOU PURCHASE A CLASS CARD!
CLASS POLICIES
No credit or reimbursement will be given for late cancellations or for not showing up for a reserved class.
All students must be 13+ to attend adult classes.
ATTIRE
We recommend The Leotard for all your dancewear needs.
Please do not apply lotion or oils immediately before class.
Don't forget to bring a water bottle!

BALLET
Comfortable form-fitting athletic dance wear (leotard, sport Ts, tights, shorts, etc).
All dancers should wear ballet slippers (non-black in color).
Long hair pulled back or clipped.

Contemporary and Strength + Stretch
Dance, yoga or athletic wear.
Long hair pulled back or clipped.

Bare feet or socks.
Yoga mat for Strength + Stretch (optional)
Hip Hop
Comfortable athletic wear.
Clean tennis shoes. No dark-soled shoes.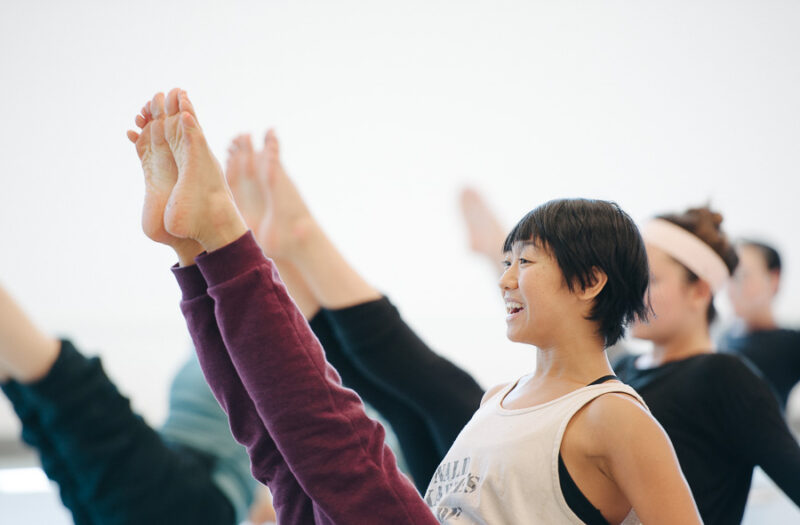 STYLES
For beginners, classes are a fun way to get fit while gaining dance experience. For more experienced dancers, classes are more technical, advanced, and challenging.
BALLET – Our ballet dance classes provide a basic grounding in ballet fundamentals and basic ballet technique. Placement, balance, posture, coordination, musicality, and alignment are clearly explained and emphasized. These classes offer a comprehensive barre and continue into a focused and structured center exercises.

CONTEMPORARY – Contemporary is designed to improve technique, flexibility, stamina, and artistry. Proper technique will be used as a departure point from which students will take risks and explore the freedom found within contemporary movement. Contemporary fuses contemporary dance styles with jazz, ballet, and world dance influences. It emphasizes and develops proper body alignment, strength and flexibility, rhythmic and musical phrasing, and self-expression. A fun, expressive combination of global music and movement.

HIP HOP – Our hip hop dance classes introduce the street dance styles from the Bronx and beyond. Fresh, funky, and soulful expression of movement that is constantly evolving. A great and fun work out for all dance enthusiasts.

STRENGTH + STRETCH – This open class for all combines dance, yoga, fitness, and Pilates-inspired exercises set to upbeat music to get you moving and motivated! The aim is to develop core strength, ease and openness in the joints, and a flexible, well-balanced body. This class is great for people of all movement abilities looking to develop and improve movement technique and understand how to warm up and stretch properly.