JUL 15 to AUG 9 / 2024
DANCERS 15 TO 18 | Dancers 19 TO 24
Spend 4 enriching weeks with NW Dance Project in an open and safe studio, connect with other dancers and artists, be inspired, and activate your artistic and physical practices in a spacious and stimulating environment.

Dancers will work with NW Dance Project's extraordinary guest artists and award-winning company members as they are mentored to push and develop their creativity, ideas, and versatility.
Participating dancers will be split into groups by age, merit and experience in order to facilitate increased individual attention and direction.

ABOUT
this intensive has fully turned my world upside down, there aren't words to describe how special this experience was for me
Today's dancers are asked to improvise, reinvent steps, switch up phrases, change musicality, and make impulsive, artistic choices. Technique alone is not enough — dancers must also now be creators. Dancers will train while being immersed in professional technique classes and experience the creative process, repertoire, improvisation, and movement styles that are necessary tools for every dancer. This intense, hands-on month of training will provide dancers with the insights, improvisational skills, and creative tools that are needed by the most sought-after companies and choreographers of today.
Each day will start with a ballet class followed by a contemporary technique class. Dancers will be mentored and participate in repertoire, improvisation, composition and choreographic development sessions Monday to Saturday. Informative discussions with our artists on career planning and life as a professional dancer will be offered as well as a wellness and injury prevention clinic.
We're looking for dancers who are curious, open and desiring opportunities to push beyond their current capabilities. Dancers need to be physically fit for the rigor and intensity required in our SUMMER DANCE PLATFORM. This includes having the stamina to be fully active for up to 8 hours per day for our program.
NW Dance Project is committed to offering a supportive and encouraging environment so that each dancer can develop and discover their unique creative voice.

EXAMPLE WEEKLY SCHEDULE
MON to FRI / 9:00AM to 5:00PM
SAT / 12:00PM to 4:00PM
Summer Dance Platform Showing
Summer Dance Platform culminates in two public showings featuring NW Dance Project repertoire and original creation. This is a ticketed event held at NW Dance Project's Creative Center.
AUG 9 / 5:30PM + 7:30PM

Tickets will go on sale soon.

words cannot describe how absolutely amazing these 4 weeks were, they made me smile and filled my heart with love
FACULTY
Summer Dance Platform is uniquely led by our world renowned NW Dance Project company artists.

2024 FACULTY TBA

2023 FACULTY
SARAH SLIPPER - Artistic Director
JOSEPH HERNANDEZ - Associate Choreographer
LEEWEI CHAO
INGRID FERDINAND
QUINCIE BEAN
ALEJANDRA PRECIADO
NICOLE HENNINGTON
Summer Dance Platform Faculty members are subject to change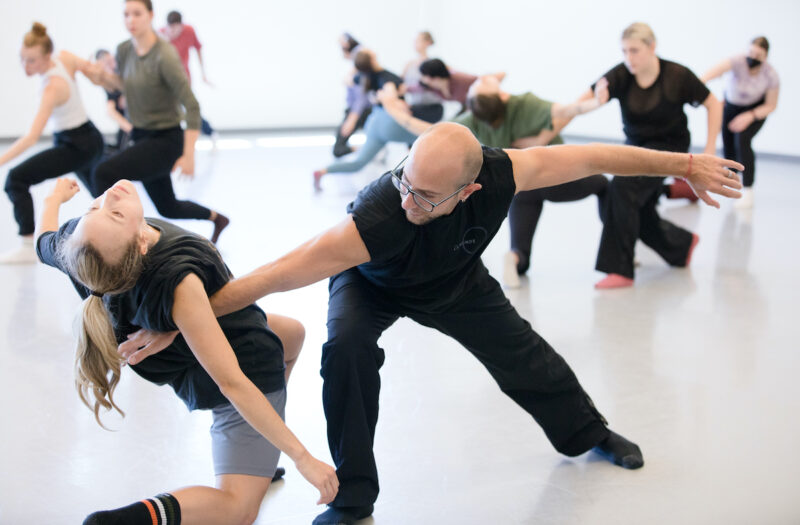 AUDITIONS
Dancers are accepted into our SUMMER DANCE PLATFORM through an audition process.

Acceptance into SUMMER DANCE PLATFORM is highly competitive. We encourage all applicants to apply/audition early as we will prioritize enrollment on a rolling application basis.

2024 AUDITION TOUR
PORTLAND
JAN 6
CHICAGO
JAN 21

LOS ANGELES
FEB 3
NEW YORK
FEB 11

VIRTUAL
JAN 28
TUITION + ACCOMMODATIONS
2024 Platform Fee (4 weeks): $2700 USD

2024 Housing + Meal Plan (4 weeks)*: $2900 USD
2024 Housing Only (4 weeks): $2175 USD

*Meal plans are required for all dancers under the age of 18. Students 18+ can opt out of meal plan.
Accommodations
NW Dance Project in partnership with Portland State University (PSU) offers students attending our Summer Dance Platform housing at the centrally located Ondine Hall in downtown Portland. Students attending are not required to live in the dormitories – students may choose to commute from home or other accommodations in Portland.
Amenities include complete kitchen with built-in appliances, bathroom, internet access, towel and linen service, and laundry facilities. There are many restaurants, delis, coffee shops, food stores and even a farmer's market located in the area to accommodate students' budgets, and the center of the city's award-winning public transportation system is just blocks away and recommended for travel to and from NW Dance Project's Creative Center and studios.
Due to limited availability, we highly suggest dancers submit their payment as soon as possible. Apartments will be allocated on a "first-come, first-served" basis.