ABOUT OUR PROGRAM
NW Dance Project has earned a well-deserved reputation for cultivating and nurturing young dancers. Our Youth Dance Program offers exceptional year-round training for youth ages 5 to 19. Dancers will experience the joy of dance taught by Portland's finest teachers in the city's safest and best-equipped professional dance studio.

Our innovative program offers a variety of learning opportunities for dancers from a wide range of backgrounds and experiences. NW Dance Project's philosophy focuses on technique, movement, strengthening and conditioning, versatility, and creativity to support a balanced dance training education. Our programs provide an in-depth approach to training that takes into consideration each individual dancer's needs and progression. We love creative expression, imagination, engagement, and offer comprehensive instruction in a supportive, inclusive, and encouraging environment.

Important dates
FALL TERM – SEP 14 to DEC 12 / 2021
WINTER TERM – JAN 10 to MAR 20 / 2022
SPRING TERM - MAR 28 to JUN 12 / 2022
STUDENT ARTIST SHOWCASE - JUN 12 / 2022
SUMMER DANCE INTENSIVE – JUN 27 to JUL 1 / 2022
SUMMER YOUTH CLASSES – JUL 9 to AUG 6 / 2022
FREE PLACEMENT WORKSHOPS - AUG 13 / 2022
Register here
PRO TRACK PROGRAM
AGE 14+
Our PRO TRACK Program provides a comprehensive study of the techniques, discipline, and styles of dance that support a professional career. Dancers in our PRO TRACK will participate in an extensive schedule of classes, which increase in rigor of training to provide suitable preparation for entry into leading companies, conservatories, and colleges today

YOUNG CREATIVES
In addition, PRO TRACK dancers will be involved in our Young Creatives. Our Young Creatives focuses on nurturing the next generation of artists with the addition of choreography-based rehearsals and performances. Dancers will work with leading artists in the field to immerse themselves into the creative process. Young Creatives will be featured in our annual Student Artist Showcase and during special performing opportunities and events throughout the year. To be considered, dancers must be participating fully in PRO TRACK program.
Young Creatives rehearsals are provided at no additional tuition cost to the students and families.

JUNIOR TRACK PROGRAM
AGE 8 to 14
Our JUNIOR TRACK Program preps our younger students with a well rounded and encompassing instruction in a supportive environment that will take them to the next level. Students will train in ballet and contemporary classes that focus on technique, movement, versatility and creativity at a cost effective tuition rate.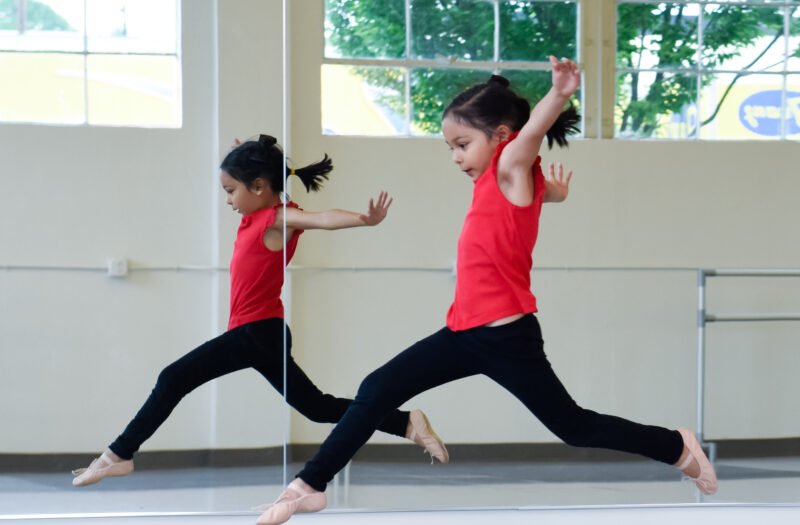 CLASSES - AGE 5 to 19
While we recommend our students participate in our PRO TRACK and JUNIOR TRACK programs, students may choose to train in individual dance styles.

We hold three sessions per school year: Fall, Winter, and Spring.

During the summer months, we offer multiple intensives, camps, and workshops for dancers to learn, explore and create.
Classes are available in multi-week, cost-saving sessions.
Registration is required for participation.
No drop-ins allowed.

BALLET - AGE 8 to 19
Ballet starts with introducing dancers to basic ballet steps. We then train our dancers to develop strong technical and artistic foundations by focusing on alignment, placement, balance, flexibility, musicality, and strength through age-appropriate progressions.
PRIMARY BALLET – AGE 6 to 7
Primary Ballet classes introduce our young dancers to age-appropriate, beginning ballet exercises in an energetic, creative, and nurturing weekly class structure. Students gain fine motor dexterity through activities that encompass storytelling and creating.
CREATIVE MOVEMENT – AGE 5
Creative Movement classes introduce our youngest dancers to beginning ballet and jazz moves combined with creative movement activities and dance activities. Class enhances balance, coordination, strength, mind-body activities for children, and flexibility.
CONTEMPORARY – AGE 8 to 19
Our contemporary dance classes are designed to improve technique, flexibility, stamina, and artistry. These classes fuse contemporary dance styles with jazz, ballet, and world dance influences. It emphasizes and develops proper body alignment, strength and flexibility, rhythmic and musical phrasing, and self-expression.
HIP HOP – AGE 9 to 19
Hip Hop classes introduce the classic urban styles - breaking, housing, popping, locking, and beyond. This class gives the basic tools of rhythm, isolation, coordination, and musicality to allow students to feel confident in their own style and choreography. A great encouraging and challenging class for all dance enthusiasts!

PLACEMENT
Students should expect to complete a minimum of a year's study in each level before moving up to the next level. Placement and advancement are at the discretion of the teacher. Great consideration is taken in our class placement process. Students move through our curriculum according to ability, development, and age.
New to our program? We highly encourage participating in our FREE placement workshops!

PRIVATE CLASSES
NW Dance Project also offers private and Semi-Private (2 or 3 students) youth classes in Ballet, Contemporary, and Conditioning.

RATES
1 hour private / $95
1.5 hours private / $135
1 hour semi-private / $65 per student
1.5 hours semi-private / $95 per student

For more information, details, and scheduling, please or call 503.421.7434.